Tamanu Oil (And Other Oils) In Top-Rated Hair Products
Oil that has unusual antiseptic and soothing properties. Natural tamanu oil belongs to so called bio-oils that have a large concentration of unsaturated fatty acids – essential for keeping health and proper moisture. However, there are some oils that can replace tamanu oil.
Many other natural oils – e.g. used for hair oiling – have as rich ingredients as tamanu oil. That is why the review shows the best hair products that contain not only tamanu oil but abound in other natural oils. The effectiveness of a product doesn't depend on a specific oil included. A reasonable and natural composition is the key.
Tamanu oil. What should you know?
It is an exotic oil coming from the regions of South Asia, Africa and Pacific Islands. It is the best-known part extracted from the tamanu tree. The oil is pressed from the dried seeds of the ripe fruit. This plant substance has folk traditions yet it was tested by scientists and the results showed its impressive qualities.
It is similar to other oils and seems to be a common plant ingredient. An unrefined tamanu oil is thick and fluid. The colour ranges from yellow and green to brown. The oil gets solid below the temperature 10°C thus it is mainly used in the fluid form.
Tamanu oil includes an active substance worth our attention: an antibacterial calophyllic acid that speeds up soothing of wounds. The oil is also composed of unsaturated fatty acids – linoleic (omega-6) and oleic (omega-9). Natural tamanu oil also includes phytosterols.
Thanks to its ingredients and extraction method, the cold-pressed tamanu oil is popular in beauty care. It has a positive influence on a problematic skin and delivers interesting hair benefits. How does it work?
enhances the treatment of various skin problems,
soothes inflammation and reduces scars,
triggers cellular renewal,
has the ability to absorb UV rays,
reinforces hydro-lipid layer, preventing water loss,
normalizes sebaceous glands and reduces oiliness,
decreases dandruff and skin flaking.
Tamanu oil vs Other oils
Even though tamanu oil is very interesting, it is not the only one that takes great care of hair and skin. It is ranked among "best hair oils", next to other popular and valuable oils. Coconut oil, Shea butter, argan oil, rose oil, macadamia nut oil, jojoba oil, castor oil and sweet almond oil have excellent properties as well. Summing up, tamanu oil is not the only ingredient that you should pay attention to while choosing a beauty product.
Meet the best hair oils, masks and conditioners chosen by women!
NANOIL HAIR OIL (IN THREE VERSIONS)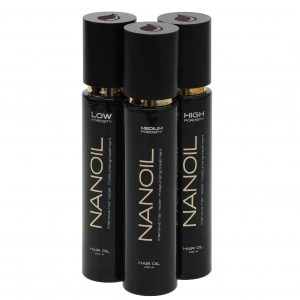 Surely, it is the best hair oil loved by women due to its perfect – in every aspect – formula. Nanoil Hair Oil is the only oil that matches hair porosity. What does it mean? The product is in harmony with hair types that have different structure and condition. Three versions of Nanoil are available – for low, medium and high porosity hair. Every woman will find an ideal, no matter if she has curly, damaged, frizzy, falling out, straight or fine hair. Each version of Nanoil Hair Oil equals an ultralight and non-greasy formula that is immediately absorbed.
What are the effects? The product gives full care, keeps hair healthy, makes it stronger, regenerates and has strongly beautifying properties. Nanoil Hair Oil presents you with smooth strands, easy styling, shine and defined colour as well as stimulates hair growth and prevents hair loss thanks to innovative active ingredients. The product is made up of exclusively natural substances. Every oil in Nanoil range contains large quantities of natural oils that have complementary properties and similar absorbability. Consequently, Nanoil Hair Oil is suitable even for fine hair; it penetrates easily.
It is one of few oils you can apply to scalp, use for traditional hair oiling with popular methods and use regularly without any limitations. If you rub Nanoil Hair Oil into your scalp, it will ensure suitable moisture, normalize the work of sebaceous glands, soothe irritations, eliminate dandruff and even restore acid-base balance. Nanoil turns out to be a strong competition for other hair oils. Although Nanoil Hair Oil doesn't include tamanu oil, it offers a full set of other valuable ingredients so why don't you check if it works for you?
visit website nanoil.us
ALTERNA CAVIAR HAIR CREAM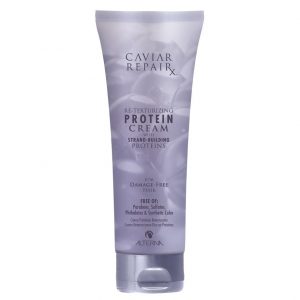 Alterna Caviar Repair Rx Protein Cream is another noteworthy proposition. Similarly to other Alterna products, the cream uses two technologies – Color Hold and Enzymatherapy. The product is offered by Caviar Anty-Aging range. It is designed for hair that deteriorates due to stress, environment and chemical factors. Alterna Caviar Cream has a rich consistency so it won't work for women who have fine hair. Apply it to damp hair after washing, avoid the scalp and preferably rinse out after more or less 15 minutes.
What can you find inside the 150 ml light violet bottle? Alterna Caviar Protein Cream is the composition of several plant ingredients and additional substances: caviar extract, vitamin C and enzymes that make the ingredients penetrate the hair more easily. Alterna Cream moisturises, reinforces and makes hair resistant to harmful factors, protects from UV radiation and makes hair softer and more manageable. Unfortunately, the product is not cost-effective, therefore it is a big expense; not everyone can afford it.
DAVINES ENERGIZING HAIR LOTION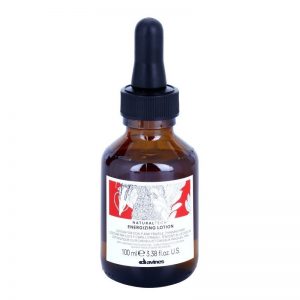 An elegant, minimalist and interesting product for hair prone to falling out – Davines Lotion. Although this type of cosmetics is not popular among women, Davines Naturaltech Energizing Lotion is worth mentioning. It is composed of natural active ingredients: Polysaccharides (boosting immune system), Caffeine (increasing blood flow) and Sirtuins (stopping ageing). Sadly, Davines Lotion contains (apart from Myrtus Extract and Eucalyptus Extract) harmful alcohols and sensitising fragrances, which can be discouraging.
Davines Energizing Lotion is 100 ml of lightweight hair treatment. You apply the cosmetic to hair and scalp. You don't have to rinse it out. Choose a portion that will be easily absorbed. The treatment is recommended in case of hair loss caused by stress or seasonal factors. The lotion is less popular as a product for strengthening hair and preventing damage.
SCHWARZKOPF BC HAIR BALM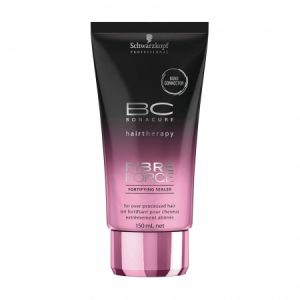 Schwarzkopf BC Bonacure Fibre Force is another popular hair cosmetic. A competitive price is its biggest asset. Sadly, the cosmetic runs out quickly. We get 150 ml of a very thick balm that is hard to spread on hair. You use it up after a few applications if your hair is long. Hair oils beat the balm when it comes to formula and easy use. That is why BC Bonacure will appeal to women who like this kind of formulas.
What are hair benefits of using Schwarzkopf BC Balm? The cosmetic works in a precise way. It comes in only one version for weakened, damaged hair that needs repair. It reinforces hair and seals the external structure. The cosmetic protects your strands from heat and reduces frizz. Surely, Schwarzkopf Balm fails to provide full hair care.